August 31, 2017
Balestier Penthouse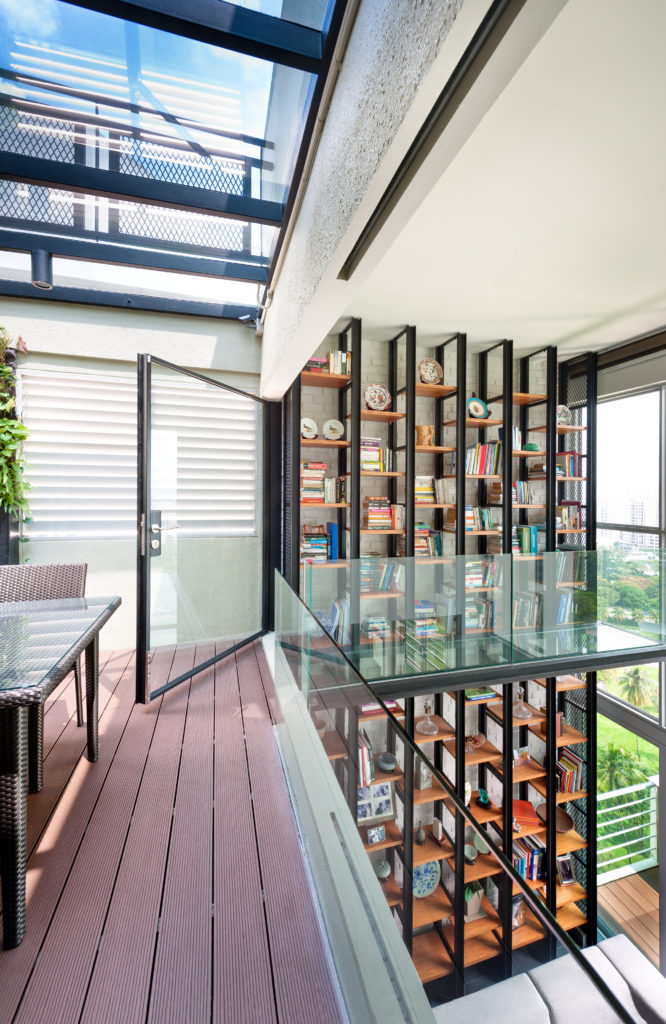 A fabulous penthouse nestled amongst other high rise buildings in the central Singapore region. We wanted to take advantage of the incredible amount of natural light that is available to us to create an airy and vibrant feel within the house.

We built the glass walkway with the intention of a minimalist industrial theme against the bookshelf area for the owners to access the upper part of the bookshelf without using a ladder. Coupled with the frameless glass panels lining the mezzanine level and the walkway, the height of the house is greatly emphasized without losing any of the beautiful natural light that filters through the big sky light above. The entire shelving unit essentially becomes a feature wall with a touch of comfort from the personal items that line the shelves.
Keeping with the open concept and maintaining the airy feel that the clients desired, we knocked down the kitchen walls and made the dry kitchen one with the living room whilst shifting the wet kitchen outdoors to keep the functionality of a kitchen present.
The bathroom is filled with details that one might miss without a closer look. The contrast of the wood and the dark tiling makes the floor demand your attention which then shows you the attention to detail that we put into creating the floor. Without creating two different floors at different levels, we levelled and lifted the wooden planks to allow the water to drip through the floorboards and thus allowing the bathroom to be kept dry.
Also featured on: